Jan 28 from 5-8pm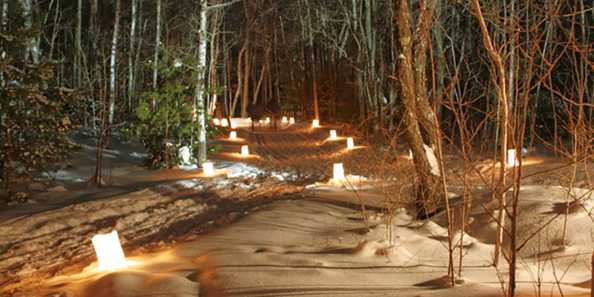 Come out to Lake Wissota State Park to ski, hike or snowshoe on beautiful candlelit trails. Campfires will be provided, but please bring your own provisions for hotdogs or s'more's. Hot chocolate and hot cider will be available. Snowshoes will also be available to borrow with a suggested donation. Parking will be in the boat landing parking lot. A vehicle admission sticker is required and may be purchased at the park. Sponsored by Friends of Lake Wissota State Park.
Lake Wissota State Park
18127 County Road O – Chippewa Falls, WI 54729
Information:
 715-382-4574
Jan 28 at  5:30pm
The Dweebs Dinner & Music at Loopy's! Join us January 28th for a fundraiser for Wheaton Fire & Rescue featuring The Dweebs! There will also be pull tabs, 50/50s, and gun raffles! Get your tickets here: 
723loop.com/dweebs
Cocktail hour 5:30-6:30pm, Dinner from 6:30-7:30pm, and The Dweebs from 8pm-12am! $30 per ticket for dinner and the show. $20 for just the show available at the door starting at 7:30. Loop Troop members also get a $5 drink ticket at the door!
Friday, Feb 4 at 7:30pm
Saturday, Feb 4 at 10am and 1:30pm
Sunday, Feb 5 at 1:30
Originally produced by the Guthrie Theatre, this musical follows the Ingalls family as they journey westward to make a better life for their children. In story, song and dance, the show follows Laura as she grows from the wild child who loved to run free into a woman who embraces the responsibilities of her own future.
Click here to purchase tickets.
Saturday, Feb 4 at 7:30pm
What's so FUNNY About Growing Up in Wisconsin? Dobie says, "Schlitz Happens!" Long time nationally touring comedian and Milwaukee native Dobie Maxwell share his hilarious look back on his formative years in his home state. Dobie's topics include his lifelong love of sports (he was a ball boy for the Milwaukee Bucks and vendor for the Milwaukee Brewers), his love of "All Star Wrestling" and meeting his lifelong hero "The Crusher," going "up north" for vacation, his first car and more. Dobie's shows are PG rated, and swearing is not part of the mix. Maxwell has toured extensively all across North America in comedy clubs and cruise ships since 1985. He is also a morning radio veteran having worked in several U.S. markets. Click here to purchase tickets.
Saturday, Feb 11. 7am-2pm
Brought to you by UWEC Recreation, Blugold Athletics and the Lake Wissota Lion's along with title sponsors Scheels and Eau Claire Ford, over $80,000 in cash and prizes given out including a 2-year lease on a Ford F150 Truck to be drawn from all registered Fish Tickets! Prizes awarded by weight to the top 20 fish and every 10th place thereafter to 480th place, then 481st through 500th place.
Each participant may register one fish per ticket; tickets are $25 with no limit on the number of tickets an individual can purchase. Everyone who registers a fish may request two free Blugold Football Tickets at the weigh-in stations (value $16).
Raffle prizes include a Polaris Sportsman 4-wheeler, $500 Scheel's gift cards, and more.  Raffle tickets are $5 each or 5 for $20.  $100 Gift card prizes for the top fish by weight in each category: northern, walleye, and pan fish. "The One that Got Away" drawing from all Fish Ticket holders that did not register a fish; must turn in Fish Ticket stub at the Prize Table at The View by 2:30pm.
Scheel's Kids Klub fishing event at 11am.
Purchase tickets at the following locations:
Online at jigsup.org
Scheels (bait) *
Mega Holiday Stations Chippewa Falls Locations
Jacobson's Hardware Chippewa Falls Locations (bait)
Lake Wissota Travel Stop
Eau Claire Ford
UWEC Recreation *
Wissota Lodge*
The Edge *
The View *
The SandBar *
*Raffle tickets available
For contest rules and additional information, visit jigsup.org or contact UWEC Recreation at (715)836-3377.
Saturday, Feb 11 at 7:30pm and Sunday Feb 12 at 2pm
Underneath the Lintel, is about a befuddled Dutch librarian in search of a piece of the past. It's a tale of disillusionment and mystery as Patrick O'Brien's reclusive librarian embarks on a hilarious and heartfelt quest to discover the story behind a library book that was returned 123 years overdue. Though masked by humor and witty sarcasm, the journey ultimately unravels the forlorn depths of this own mind, revealing internal conflicts and the flaws of the human heart. The production starring O'Brien debuted at the Minneapolis Mixed Blood Theatre in 2009 to enthusiastic audiences and was reviewed with utmost praise following performances at the Jungle Theatre during the Minnesota Fringe Festival. Whether you know him as Mr. Dewey on Saved by the Bell or from his appearances on dozens of other TV shows (including Monk, West Wing, ER, Married with Children, and Sabrina the Teenage Witch) and movies such as Catch Me if You Can and The Curious Case of Benjamin Button, Patrick O'Brien has enjoyed a prolific acting career – and he grew up right next door in Eau Claire, Wisconsin. Click here to purchase tickets.
Wednesday, Feb 22 – Wednesday, Apr 5
Heyde Center for the Arts would like to take this opportunity to recognize the artistic talent that abounds in the quilting community in Western Wisconsin. The quilting community has a long history of creative experiences in artistic designs. The exhibit will showcase this heritage by hosting a quilting exhibition featuring quilters from Western Wisconsin. No cost for admission.
Wednesday, Feb 22 from 4-7pm
It's Ladies Night! Join us for some wine sampling, gourmet dip samples, and fun! The last Wednesday of every month we are hosting a night just for you ladies!
Some nights we may have pop up crafters/bakers joining us, we may have a sale, you just never know what we will come up with!
Saturday, Feb 25 at 8:30pm
4th Floor show at Loopy's in Chippewa Falls! 4th Floor is "a 4 piece, good ol' American rock and roll machine from the great Northwoods of Wisconsin! Blues infused, country tinged, straight forward rock and roll until we die!"
Click here to purchase tickets.
For the Absolute Beginner with Kay Brathol-Hostvet
Monday, Feb 27 at 10am
If you can ride a bicycle, operate a sewing machine, or drive a car, you can learn to draw, too! Drawing is a relaxing hobby, a foundation skill for all visual arts, and a useful tool in planning home and garden projects. Kay will alleviate your fears through fun drawing exercises. All materials are provided, including your own sketchbook and drawing tools to take home. Supply list to be sent upon confirmation of class. Some snacks and beverages will be provided, please bring a sack lunch. Click here to purchase tickets.