The Inn on Lake Wissota - The Perfect Place to Find Rest
Nestled among whispering pines on the scenic shoreline of Lake Wissota lies a luxury retreat of quiet and comfort. The Inn on Lake Wissota, a Bed and Breakfast near Chippewa Falls/Eau Claire, Wisconsin, has been quietly serving its guests with unbeatable hospitality for the past 20+ years. There is plenty of fun to be had in the Chippewa Falls/Eau Claire area, including outdoor recreation, wineries, breweries (notably Leinenkugel's), art, history, shopping, and so much more. Beyond that, Lake Wissota is yours to see and enjoy.
The Chippewa Falls/Eau Claire region is a four-season destination. Come relax on the lake with us, and enjoy our romantic accommodations. You'll enjoy a restful night's sleep in peace and quiet, tucked away on the shores of this picturesque lake. Additionally, our rooms feature terraces, fireplaces, showers, and whirlpool tubs.
With breathtaking scenic views, luxury accommodations, delicious food and a wealth of activities, the Inn on Lake Wissota is the perfect place to get away for any season.
This stay was an Anniversary present from my husband. We stayed in the Northwoods room. It was absolutely fabulous! Meghan & Brad the owners were incredible.
Oh my, what can I possibly say about this place that would do it justice!! Peaceful, serene, out of the way and beautiful. Bountiful breakfast every morning that will certainly start your day in a great way. Rooms were big and certainly cozy. If you are in the area or want to visit this place is a must to stay and get a chance to unwind.
Breakfast with a view. Friendly owner, convenient stay, peaceful, good food, great local recommendations. I have already recommended this inn to my parents.
Our stay was pure perfection! Fresh cookies welcomed us as we entered the Inn. Our room was cozy, very clean, spacious and had an amazing lake view. We felt at home. We had a bonfire in the backyard overlooking Lake Wissota in the evening, it was so peaceful and relaxing. Meghan was the perfect host and her morning, made from scratch breakfast was incredibly delicious! To top it off...The coffee was so good I had to purchase a bag of beans to take home with me!! Loved everything about this place, we'll definitely be back!!
Each morning we prepare a different family-style, multi-course breakfast which is served in our beautiful Dining Room overlooking Lake Wissota.
We are located on the shores of Lake Wissota and just 10 minutes to Chippewa Falls and 30 minutes to Eau Claire.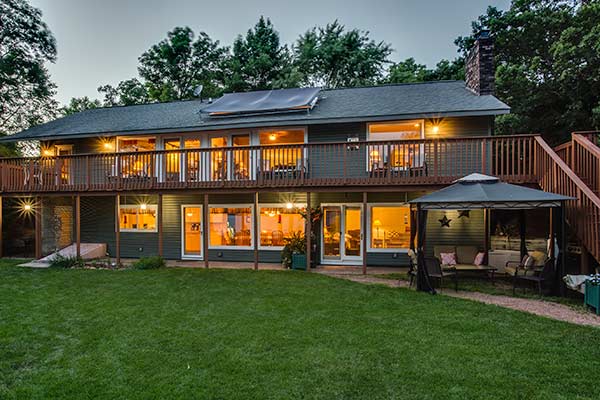 You can easily make a reservation with us online. Get the best rates when you book directly with us. You can also add packages when booking.