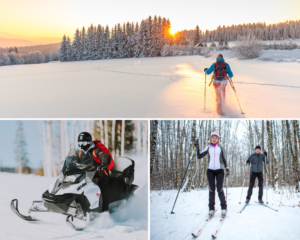 The holidays have come and gone, and the cold weather continues to descend upon us here in Chippewa Falls.  We all know the winter months in the north woods can be brutally cold some years.  While I don't particularly enjoy spending a whole lot of time outdoors when it is cold,  there are definite benefits of getting outdoors and getting some exercise.  You always feel better after spending some time in the fresh air.  Whether it's just a 15-minute walk in your neighborhood or grabbing the snowshoes and going for a walk on the Chippewa River or through Lake Wissota State Park, you'll never feel as if you have wasted your time – especially when you can return to the warm, cozy bed and breakfast.
So, if you feel the need to take a little break this winter and want to get away for a few days, we hope you'll consider Chippewa Falls.  Winter in the Chippewa Valley is breathtakingly beautiful, with the snow-covered rolling hills, the vast white expanse of frozen Lake Wissota, and the serenity of the meandering Chippewa River.  There are plenty of outdoor activities for you to partake in some adventure and help keep those winter doldrums at bay.
Ice Fishing
I have yet to see the scene from "Grumpy Old Men" enfold before my eyes, but there have been a few testing their luck out on the ice.  The main portion of Lake Wissota doesn't get as much activity, only when there have been plenty of sub-zero temperatures.  The majority of ice fishing takes place on Little Lake Wissota and Moon bay.  Chippewa County has several access points on both Little Lake Wissota and Moon Bay at no charge. Lake Wissota State Park also has access to Moon Bay.  There are also plenty of smaller lakes in the area that offer great fishing.
Snowshoeing and Cross-Country Skiing
The Chippewa Falls and Eau Claire areas have lots of opportunities for snowshoeing and cross-country skiing.  Lake Wissota State Park has approximately 10 miles of open snowshoe trails and 8 miles of cross-country ski trails.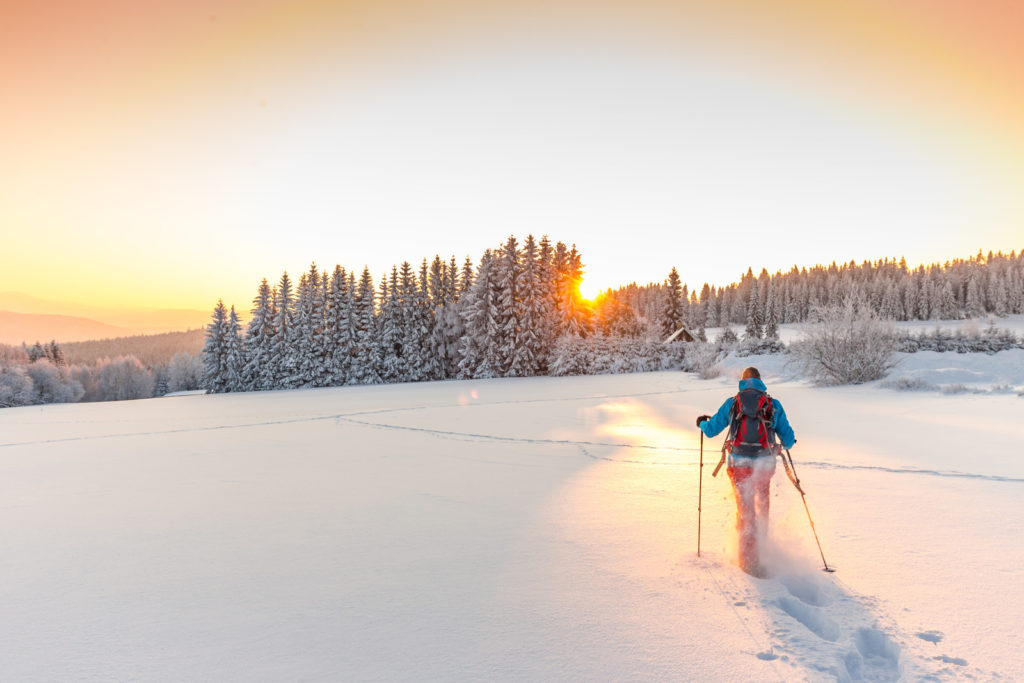 The Chippewa Morraine State Recreation Area doesn't groom their trails, but they are open for snowshoeing and cross-country skiing.  They have 3 self-guided trails that start at the Interpretive Center and take you past a variety of glacial features.  Tower Ridge in Eau Claire may seem challenging at first, but don't let the mounds of snow keep you from exercising; Tower Ridge is a great place to enjoy the snow and workout, offering cross-country and snowshoe trails. There are hilly and flat groomed trails for all levels. There are about 3 kilometers of lighted trails and a warming shelter that allows for night outings, a nice precursor to a warm fire. If you don't own a pair of snowshoes and would like to try out the sport before you make the investment, Lake Wissota State Park & Spring Street Sports in Chippewa Falls both rent snowshoes.
Snowmobiling
Well let's face it, the snowmobilers are certainly at the mercy of Mother Nature when it comes to enjoying their sport, especially here in the north woods.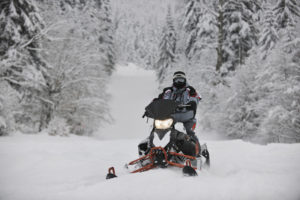 But, when the trails are open, Chippewa County offers snowmobile enthusiasts over 500 miles of snowmobile trails to ride on. The variety of landscapes that the trails cover is what makes them so fun and exciting. While riding our trails check out the glacial formations, rolling hills, and the beautiful wooded forests. This trail system travels through Chippewa County and connects with many other county trails with the opportunity to travel by snowmobile statewide. The Chippewa Valley Snowmobile Organization maintains and grooms the trail system and keeps the trails in excellent riding condition during the snowmobile season.
No matter what kind of winter sports you enjoy – or if even if you prefer to just curl up by the fireplace with a good book, we hope to greet you soon as one of our guests.