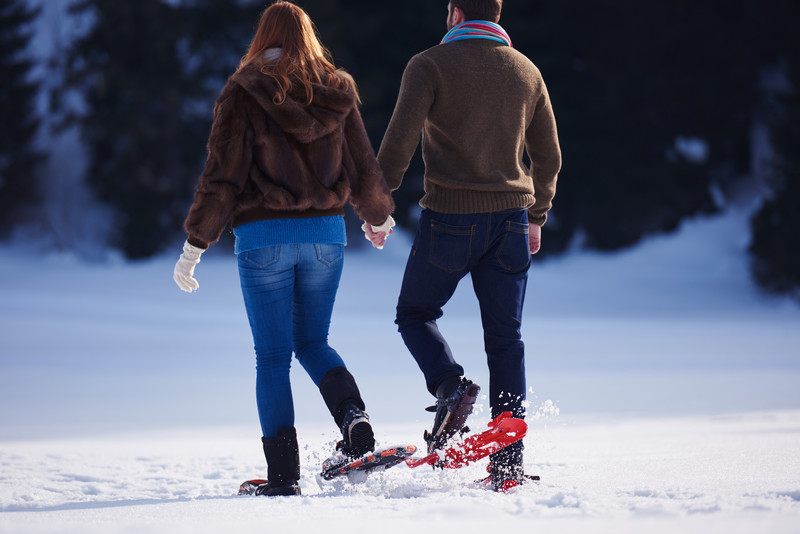 Many of the guests that come to stay at Pleasant View Bed & Breakfast are outdoor enthusiasts.  The Chippewa Valley offers a wide variety of outdoor activities, and the B&B is close to many of them.  Since we are located on Lake Wissota, it is easy to get outside and enjoy everything Mother Nature has to offer.
Now that we have made it through the holidays and the days are getting a little longer I have a hankering to spend some time outdoors, enjoy the fresh air and get some exercise.

 

The winter this year in northwestern Wisconsin has been quite mild, relatively speaking.

 

We do have snow on the ground, but I would not call it an abundance.

 

But, there is still enough to strap on the snowshoes and head outdoors for some R&R.
Did you know you can burn more calories by snowshoeing than walking the same distance at the same pace? Walking on a flat trail for an hour burns up to 350 calories while snowshoeing at a similar pace across a flat, packed trail will burn about 450 calories.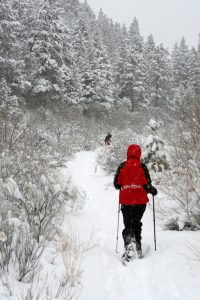 As I get older I do suffer from a few more aches and pains and my joints don't move as freely as they used to, so I am more conscientious of the types of exercise I do.

 

Snowshoeing is a low-impact aerobic activity that is a great way to work out your quads, hamstrings, and calf muscles.

 

The snow acts as a cushion to reduce the impact on joints and muscles, this is great for those who suffer from knee problems.

 
An activity for people of all ages, including kids and older folks, and the only skill required is walking.

 

This is why I enjoy snowshoeing so much, all you need to do is strap on the snowshoes and go for a walk in the snow.

 

When I spend time outdoors I find my stress level going down, which renews my energy levels and helps ward off the winter doldrums.

 

A great activity to share with someone you love, or a great way to get some time to yourself and reflect.
Where there is snow you can snowshoe.

 

The fun is there is no trail required. If you are breaking trail, you are burning more calories.

 

You can try it in your own backyard or at the local park.

 

Some parks offer snowshoe trails so you can enjoy Mother Nature up close and personal.

 

If you are close to a lake try snowshoeing on a snow-covered lake. Of course, you will want to be confident the lake is frozen and the ice is thick enough to support your weight.

 

If you see ice fishermen on the lake with their vehicles and ice shacks, the ice will be plenty thick enough for snowshoeing
Snowshoeing is an affordable activity.

 

If you'd like to try it for a day or two before you make the investment in a pair of snowshoes, consider renting them.

 

In my area you can rent snowshoes for $15/day or $25/weekend, check with your local sports rental store for pricing in your area. The local state park in my area, Lake Wissota State Park, rents snowshoes to visitors of the park that are interested in snowshoeing.

 

This is a great way to try it out for the first time to see if it is something you will enjoy.

 

When you are ready to buy your snowshoes, check out your local sporting goods store.

 

Some expert advice will be needed since proper snowshoes are based on your weight and also the type of terrain you will be snowshoeing.

 

This guide put out by the Sierra Trading Post will give you some tips for selecting the right pair of snowshoes,
http://www.sierratradingpost.com/lp2/snowshoe-guide/
.