All the latest from Inn on Lake Wissota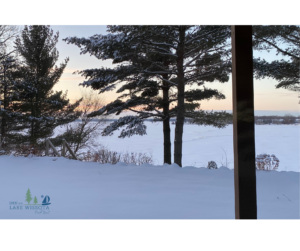 Welcome, 2022! The Holidays are over, and we are now settling in to enjoy the peacefulness of winter here on Lake Wissota. The lake has frozen over, and a few brave souls have taken to the ice to try their hands at catching the wide variety of fish found in our lake. I'm still waiting to see if it turns into a scene from "Grumpy Old Men"! Regardless of whether you prefer ice fishing, snowmobiling, snowshoeing, hiking, cross-country skiing, shopping, or just snuggling up next to the fireplace with a good book, we would love to welcome you as our guest at the Inn on Lake Wissota.
There are many things to do in Chippewa Falls and the surrounding areas. Here are just a few!
Shopping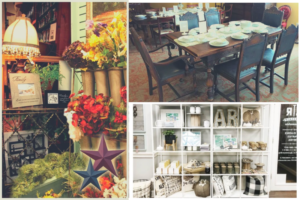 Chippewa Falls has the most amazing small businesses! There is a wide selection of unique shops for you to find amazing gifts for everyone on your list! From antiques, home decor and furniture items, clothing boutiques, handmade candles and soaps, and so much more – all in our downtown.
Collective Charm – Located in the heart of historic downtown Chippewa Falls, they have over 12,000 square feet of treasures presented by over 65 vendors featuring antique, vintage, upcycled, and restored treasures.Foreign 5– Eclectic boutique with a variety of unique and quality products like wedding dresses, custom floral arrangements, local wine and cheese, home décor, women's fashion and accessories, and so much more.
Glaze N' Glass Creations – The studio offers everything you'll need to make one-of-a-kind ceramic and glass fused pieces.  Whether you are a beginner or more advanced, artists of all ages are invited to tap into their creativity and design their own masterpieces.
Country Treasures Hallmark – A popular stop for fashion, unique gifts, and home décor items.
Mason Outlet Store – For the shoe lovers out there – Mason Companies, Inc. has one retail outlet store located in Downtown Chippewa Falls, WI. Mason Outlet Store offers savings up to 80% on name-brand footwear including brands like Keen, Born, Eastland, Naturalizer, and more.
Chippewa Candy Shop – Satisfy your sweet tooth with the best candies, chocolates, soft-serve ice cream in the area! All with the added bonus of creating memories in a family-friendly atmosphere!
Winter Activities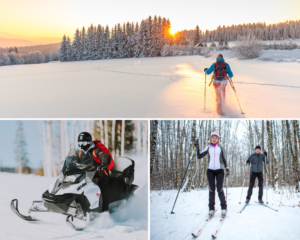 Chippewa Falls has some of the Midwest's best cross country skiing, snowshoeing, snowmobiling, and ice fishing locations! We are a short walk from many of them! Come stay with us and get some time outdoors, then come back and warm up by the fireplaces at the Inn and find some rest. Whatever you like to do in the winter, we have access to it all!
Upcoming Events in the Chippewa Valley
Various showtimes on January 11, 12, 14, 15, 16
This musical is a humorous take on the secret world of ice fisherman through a day in the life of Marvin and Lloyd, fishing buddies, and home-grown philosophers. This is a musical treat about two guys sharing their hopes, dream, Leinie's, and fish. On a cold winter morning, they swap jokes, talk about their lives and the Green Bay Packers while waiting for the host of a local TV fishing show to show up. Guys on Ice will give you the joys and trials of ice fishing without having to freeze your socks off. Starring brothers Tim, Paul, Peter, Steve, and Phil Danielson from Cadott, Wisconsin. Fat Boys Catering will create a wonderful meal of baked fish on Friday and baked chicken on Saturday along with creamy mashed potatoes, salad, and a small dessert.
January 11-16, 2022
Celebrating the 10th Anniversary of Infinity's Port Wines, Adalina's Pride & Adalina's Joy. Stop in for two glasses of our Port Wines and a sweet treat pairing.
Adalina's Pride is a sweet Zinfandel
Adalina's Joy is a tropical Moscato.
Thursday, January 13, 2022 from 5:30 – 7:45pm 
Chef John Bender and Modicum have teamed up to create an innovative and delicious specialty menu! Modicum was founded in 2017 as a tiny brewery and taproom that specializes in brewing unfiltered lagers and ales with an emphasis on nuanced complexity and drinkability. Their beer is brewed on-site, just a few feet away from where it's served.
The menu features Modicum beers integrated into the courses, as well as a beer tasting menu during the dinner. Learn more about the beer from the brewmasters themselves during this interactive and delicious event! Purchase tickets here.
Thursday, January 13, 2022 from 7:30 – 9:30pm
Mike Recine is either the smartest dumb guy or the dumbest smart guy in the room. He's performed stand-up on Conan, written for the MTV Video Music Awards, performed as a New Face in the Montreal Just for Laughs Festival, and been nominated for Time Out New York's Joke of the Year.
Since his first open mic as a teenager in Jersey, he's performed at nearly every comedy venue in NYC, blending observation and personal storytelling with a pitch-perfect dark wit. Catch him live across the country to see one of the only guys Brooklyn hipsters and Jersey slobs can agree on. Get your tickets here.
Saturday, January 14, 2022 at 8pm
Comedy Night in The Loopy Dome! Come out on January 14th for a fun night of dinner, drinks, and laughs with Moody Molavi & Lee Harden!
Just $10 (Loop Troop Members $5). Show starts at 8pm,  dinner not included. Come early for their amazing award-winning Friday Fish Fry before the show! Get your tickets today at 723loop.com/comedy-run
Fridays, January 14 and 21, 2022 from 8:30 – 11:30
Paul Hecht brings a wide musical curiosity and a commitment to jazz traditions in the piano/keyboard trio format. Hecht trained with musicians from Detroit and Chicago and now divides his time between Chicago and Eau Claire.
Monday, January 17, 2022 from 6:30 – 9:30pm
Enjoy a four-course chef-prepared dinner served and paired with select wine. Menu Course One Chicken pinwheels Course Two Antipasto salad Course Three Smoked Lasagna with WI cheese bread. Purchase your tickets here.
Saturday, January 29, 2022
The NWIRC is back at The View with their Ice Races! Stop out for some fantastic food and drinks and watch some awesome Motorcycle, Side By Side, and ATV races!
-Sign-up is from 7:30am-9:30am
-Practice from 9am to 10:15am
-Riders meeting at 10:30am
-Races start right after drivers meeting
Prizes at The View shortly after the last race!
Saturday, January 29, 2022 at 7:30pm
Airlifter Brass is the Brass Quintet of the United States Air Force Band of Mid-America. With the traditional instrumentation of two trumpets, French horn, trombone, and tuba plus percussion, the ensemble is known for its versatility and outstanding musicianship. A component group of the Band of Mid-America, their performance repertoire spans five centuries, from the glorious antiphonal sounds of the Renaissance to the rich diversity of American musical styles. Free to the public, but ticket reservations are required.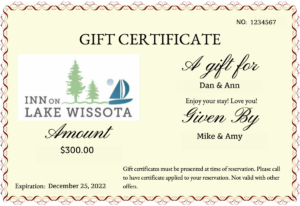 Treat your friends and loved ones to an unforgettable getaway with a gift certificate to Inn on Lake Wissota. It's the perfect gift! Our gift certificates are available in any amount for sending or downloading immediately, so you won't have to worry about delays! Give me a call at 866-WISSOTA with any questions, or visit our website https://innonlakewissota.com/